Drag Finishing Units
– DF-Series Pharma
A stainless steel version with HD paintwork, the DF Pharma -series was developed especially for surface finishing in the phramaceuticals and food industries and complies with the guidelines of these industries. Customized workpiece holders contribute greatly to the perfect finishing results obtained by the DF series and in addition to optimizing the clamping of workpieces, ensure fast mounting and batch changeover. In addition, the water cooling system of the process container keeps the polishing granuate at a consistently low temperature. This gives much longer service life and ensures that finishing results are consistent even at very high processing speeds.
Absolute reliability

Consistent use of only the best materials and components ensures trouble-free operation and long service life.

Maximum cost-effectiveness

comparatively low capital investment coupled with the potential for very high cost savings in terms of processing times make the DF series an extremely cost-effective solution.

Perfect finishing results

Deburring, edge-rounding (even in the μm range) or high-lustre finish in a quality othwerwise only obtained through hand polishing.

Short processing times

In many cases, perfect surfaces can be obtained in just a few seconds.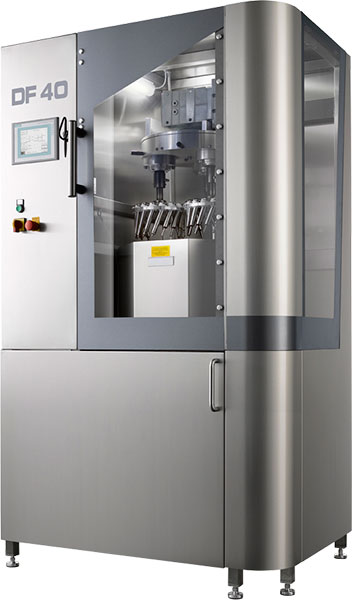 VIDEO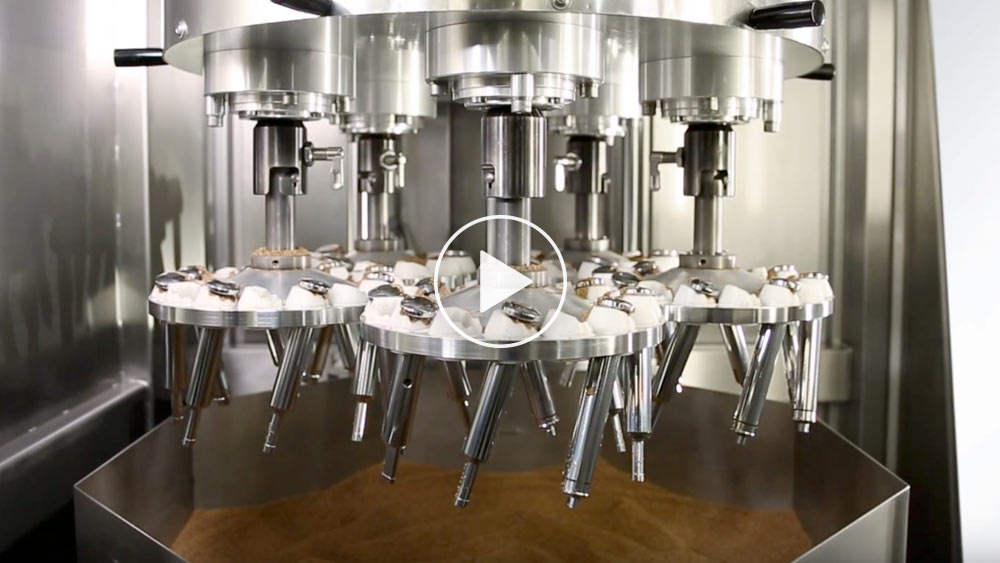 Please note our privacy policy.

DF Pharma Series
Stainless steel cladding; Drive unit with HD paintwork. Complies with the guidelines for surface finishing in the pharmaceuticals and food industries. Availabe as DF 40 series (for finishing up to 36 workpieces); DF 80 (for finishing up to 60 workpieces).
standard equipment
PLC control with touch screen
Sturdy stainless steel frame
Octagonal process container in stainless steel
Standard mount for workpiece holder in stainless steel
Speed control via frequency inverter
Illuminated work area
Hood
Miscellaneous
Water cooling
to reduce the temperaure of the granulate
Trolley
for changing the process container
Holder for tabletting tools
Optimizing the angle of incidence ensures that the contact surfaces of the tools are polished evenly. The tools are locked in place in the tabletting tool holder by means of a quick-change coupling.
Attachment: Euro B: 12 workpieces/holder Euro D: 10 workpieces/holder Further workpiece holders for dies etc. are also available.
Tests not promises
Let us prove how good our technology is. We will be happy to put the performance of OTEC technology and the DF series to the test. We will give you detailed advice and develop a finishing concept tailored to your needs and formulate the best grinding and polishing media for your application. In addition, we offer to finish a sample workpiece for you individually and to provide you with a process log documenting all key process parameters.
Download
Flyer as PDF file for downloading to your computer. To open the file, you need the Adobe Reader.