disc finishing machine
– CF -series ELEMENT
The new range of CF Element machines stands for high performance and ease of use. Its top-quality steel frame makes the CF Element very stable and quiet in operation.
Outstanding value for money
This machine is based on the reliable and proven technology of the CF -series. The CF Element series with its robust process drum, is therefore very reliable and extremely cost effective.
For wet and dry applications
The CF Element version is available for both wet and dry finishing of workpieces.
Clear display
Detailed information on the processing cycle, elapsed time and speed is shown on the display panel.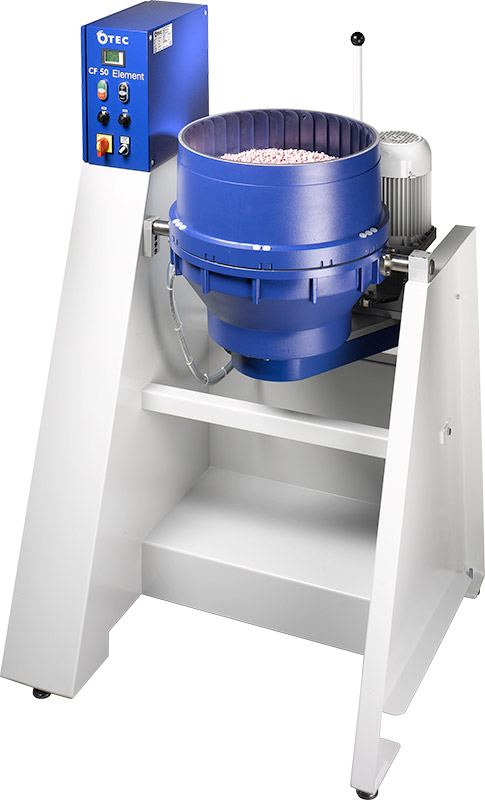 Disc finishing machines in the CF Element series are suitable for all applications which call for a cost-effective and perfect surface finish on workpieces which vary in shape and size. The difference between the centrifugal forces acting on the workpieces and the process medium creates a very powerful finishing effect. This can be up to 20 times more efficient than, for example, conventional vibrators.
CERAMIC GAP SYSTEM
With this system, the gap can be set to an accuracy of 0.05 mm since it is formed by using two ceramic rings made of SIC. this technology is best suited to dry finishing since it enables best results to be obtained by using very fine polishing granulates.
Ceramic/polyurethane gap system
This standard system from OTEC is suitable for the most common applications in wet finishing. The cermic/polyurethan combination prevents any workpieces from becoming lodged in the gap area, making the process very reliable and reducing maintenance requirements.
unique zero gap system!
For the wet finishing of very fine workpieces. The gap between the rotating disc and the stationary drum can be reduced to zero. This enables very fine grain abrasive media such as quartz to be used and prevents any workpieces from becoming lodged in the gap.
Tests not promises
Let us prove how good our technology is. We will be happy to put the performance of OTEC technology and the CF series to the test. We will give you detailed advice and develop a finishing concept tailored to your needs and formulate the best grinding and polishing media for your application. In addition, we offer to finish a sample workpiece for you individually and to provide you with a process log documenting all key process parameters.
Download
Flyer in PDF format for downloading to your computer. To open the file, you need Adobe Reader.