Disc Finishing Machine
– Maxi-Dental
The popular OTEC Maxi-Dental offers maximum flexibility when it comes to selecting the processing option with its quick and easy container changes. The compact table-top machine is impressive with low acquisition costs and a convenient Plug & Play principle.
Highlights of the Maxi-Dental
Machining with no manual rework
Targeted polishing of hard-to-reach areas
Reproducible and stable processes
Ergonomic design and easy-to-handle machines
Compact design as table-top machine
Sustainable processes through wastewater filtration
Quick return on investment thanks to low process costs and automation of manual processes
Sustainable production by reducing the workload for employees and substituting processes that pose health risks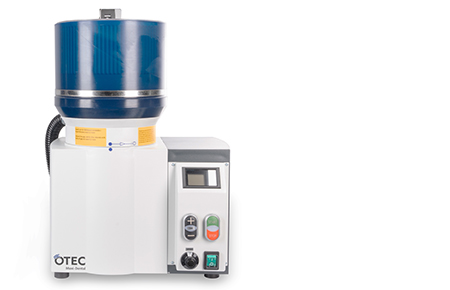 Finishing small batches economically and efficiently
OTEC Maxi-Dental "magnetic" | "wet"
With the Maxi-Dental, up to 4 manual work steps can be performed in one machine – cleaning, pre-grinding, fine grinding and polishing. Post-processing is automated, and a perfect finish is guaranteed.
Advantages of the OTEC Maxi-Dental system
Maximum flexibility – several processes with just one machine
Switch quickly between the various processes thanks to tool-free container changes
Plug & Play principle
Compact table-top machine
Cost-effective even when processing only a few workpieces per day
Cost-effective solution, recommended for laboratories processing up to 15 workpieces/day
Perfect workpiece surfaces of consistent quality
Bite splints | dentures - 2 workpieces in 1 machine
Maximum comfort for patients is the primary processing objective. The surfaces are cleaned or smoothed and polished gently and homogeneously even in the smallest angles. Shape-retaining elements are not compromised.
Comfort results with OTEC
Smoothing and polishing bite splints – a two-step process removes structures in the surface without a trace and rounds the edges
Cleaning dentures – a magnetic needle cleaning process cleans all residues even in difficult areas and re-polishes the surface
Reproducible, consistently high-quality results