AUTOMOTIVE INDUSTRY
Less friction – less CO2 – improved performance!
In the automotive industry and in motor racing, friction-optimised surfaces in the engine and drivetrain reduce friction and wear. Smoothed and isotropic surface structures reduce CO2 emissions and increase the service life of components. The use of increasingly lower viscosity oils presents huge challenges for the component surfaces. Even supposedly easy processing tasks such as deburring or targeted edge rounding often involve a lot of time and effort during manufacture. Custom-developed OTEC processes can be used to interlink process steps, improve performance, reduce emissions and make production easier.

To learn more about the measurable benefits of targeted OTEC surface processing, listen to the interview with Florian Reinle, R&D engineer at OTEC.
PROCESS COMPARISON – OTEC MASS FINISHING IS IMPRESSIVE
Belt finishing, polish grinding or even chemically accelerated processes are conventionally used during finishing. Compared with mass finishing using OTEC machines, belt finishing involves high costs for finishing belts and long set-up times. In addition, the resultant surface structure is directional (not isotropic).
Chemically accelerated processing as in trough vibrators, for example, uses chemicals such as (sodium) chromate and chromic acid, which have been classed as substances of very high concern. They also involve high costs for procurement, neutralisation and disposal, which make finishing less cost effective. OTEC mass finishing machines use only mechanical processing during the finishing process. This gives the best results in the shortest time for bulk materials and piece goods.
OTEC technologies offer particular advantages for
Friction-optimised surfaces (e.g. transmission in electric drivetrains)
In combination with shot peening (smoothing of gears after peening)
Introduction of compressive residual stress directly in the edge zone
Reduced wear by increasing pitting resistance and reducing micropitting
The use of low-viscosity or water-based lubricants
Combination of several process steps, e.g. smoothing and deburring, in one step
Pre- and post-treatment of wear-resistant layers
LINE PRODUCTION WITH OTEC
The stream finishing machines with automatic workpiece loading are ideal for processing large quantities in series production. The modular design allows a configuration of the machines that is tailored to the specific processing task.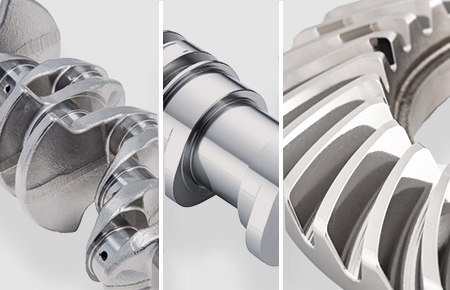 SMOOTHING | POLISHING
Application examples:
Cam pieces, crankshaft, transmission parts, differential/hypoid gears, connecting rods, steering parts, steering gear spindles, actuatorsMore information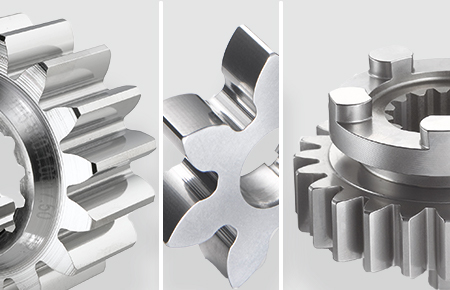 DEBURRING | EDGE ROUNDING
Application examples:
Oil control shims in shock absorbers, gearwheels, sprocketsMore information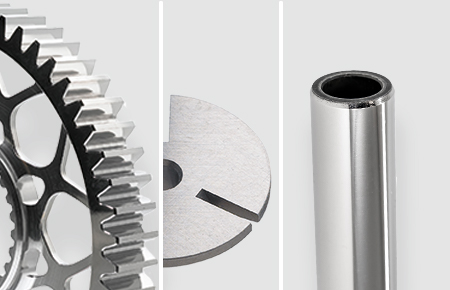 Other applications
Application examples:
3D printing, racing (valves, transmission parts, crankshaft, pistons, piston rings, ...) E-drives, isotropic surface structure, piston pinsMore information