OTEC Support for the Digital Transformation of Your Production System
What does digitalisation mean in the mechanical engineering industry?
One language for all. Machines are already able to provide information about many parameters and send it to devices such as laptops, tablets and smartphones. A global, universal interface, the OPC UA, enables this data to be collected, analysed and evaluated within a local network. The transparent, universal nature of this open interface makes it suitable for all users. This will allow a standard for data interchange between applications from different manufacturers to be introduced without problems. The global production language is becoming a reality.
Ready for the future – consistent production quality
Networked production allows you to improve the coordination of processes across a wide variety of machines, components and systems by providing all the relevant data. You can achieve a high level of automation, which results in increased cost-effectiveness. OTEC has developed its own digitalisation packages so that OTEC customers can take advantage of this. Consequently, the specialist knowledge required to operate the machines and the necessary understanding of the optimum processes and the many parameters can now be used on a custom, flexible basis. Machine control, remote maintenance and self-learning and self-testing machines provide maximum process reliability and use of capacity.
OTEC digitalisation packages: The custom solution for your company
All OTEC machines already come equipped for various levels of digitalisation. Based on your finishing process requirements, you can decide how far you want to take it. Our basic "OTEC Industry 4.0 Ready" configuration is available for all OTEC machines, and our "OTEC Industry 4.0 Advanced" package with an additional industrial PC gives you the option of more advanced digitalisation on CF, DF, and SF machines, enabling cutting-edge machine monitoring and process optimisation via remote maintenance.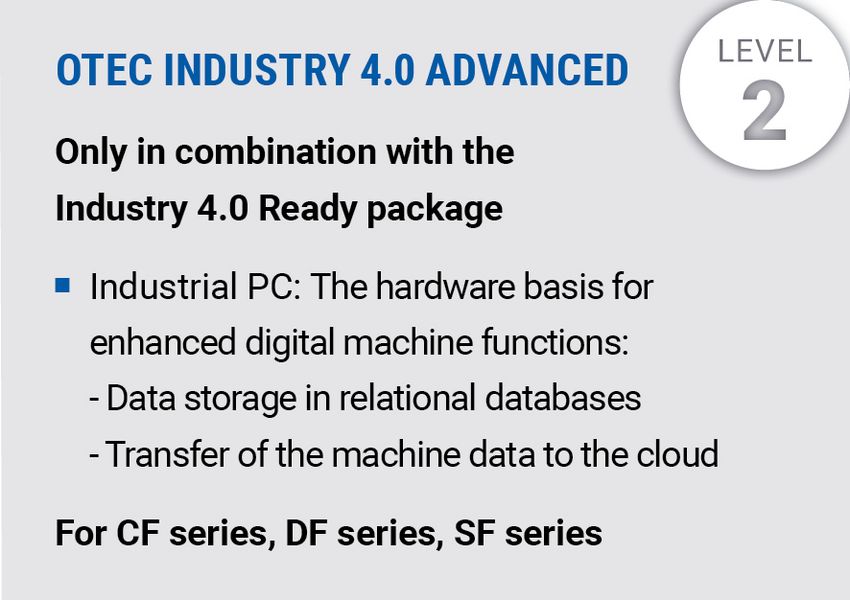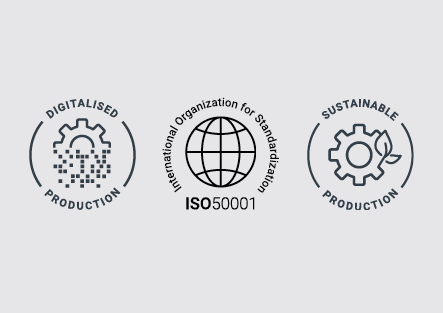 Machine performance monitoring and user performance
If you would like the capability to continuously monitor and optimize all running processes, you need to equip your machines with an integrated energy monitoring system (including offline) as standard. This system supports your company during the ISO 50001 certification process, allowing you to continuously improve your energy performance and therefore also minimise your energy costs. OTEC supplies a wide range of tools for these requirements.
OTEC Controlling Tools: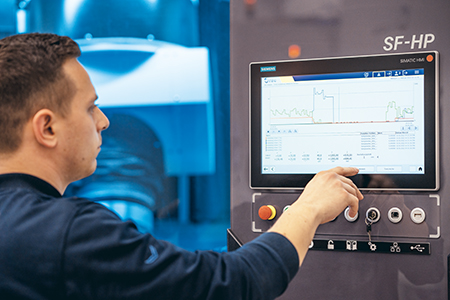 OTEC Energy Monitoring
Records electricity, water and compressed air consumption data. Available in software levels 0 to 2.
For the SF- series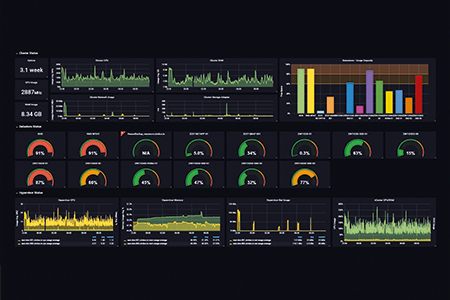 OTEC Condition Monitoring
Continuous machine-condition monitoring for self-diagnosis and checks. Options for data collection, analysis, archiving and alerting.
For the SF- series.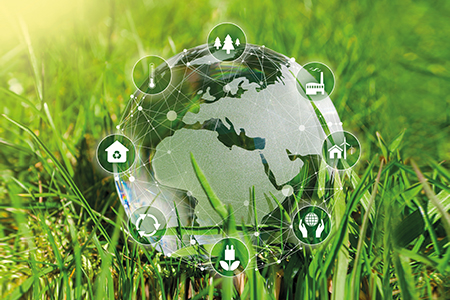 Energy Management System
Suistainable production thanks to continuous improvement of your company's energy performance.
OTEC Usability Products (additional user products):
Barcode scanner
simplified machine handling and
process control via QR codes.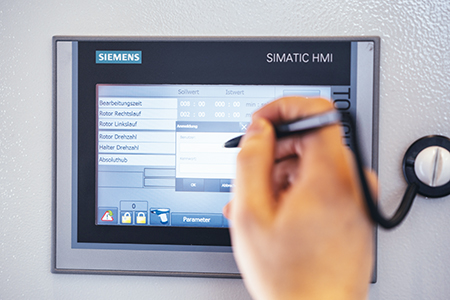 Additional password level
Convenient user management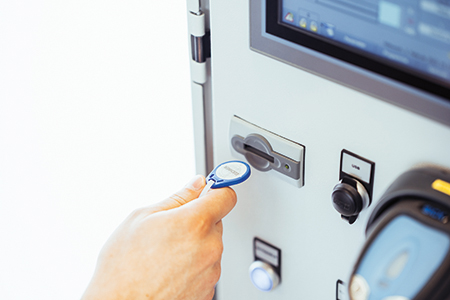 Electronic key system
Simple rights management
En route to a sustainable future with OTEC
As a trustworthy global partner, OTEC is setting innovative standards with its machines and their highly reliable
processes. We develop customised pilot applications for our customers and monitor them through all the various
stages to achieve a perfect production process. OTEC digitalisation products equip your business with all the key
tools you need for cutting-edge machine monitoring. And we are happy to help you select the right tools for your
specific process requirements.

Talk to us: HAGEN JOTA Digitalisation Project h.jota(at)otec.de